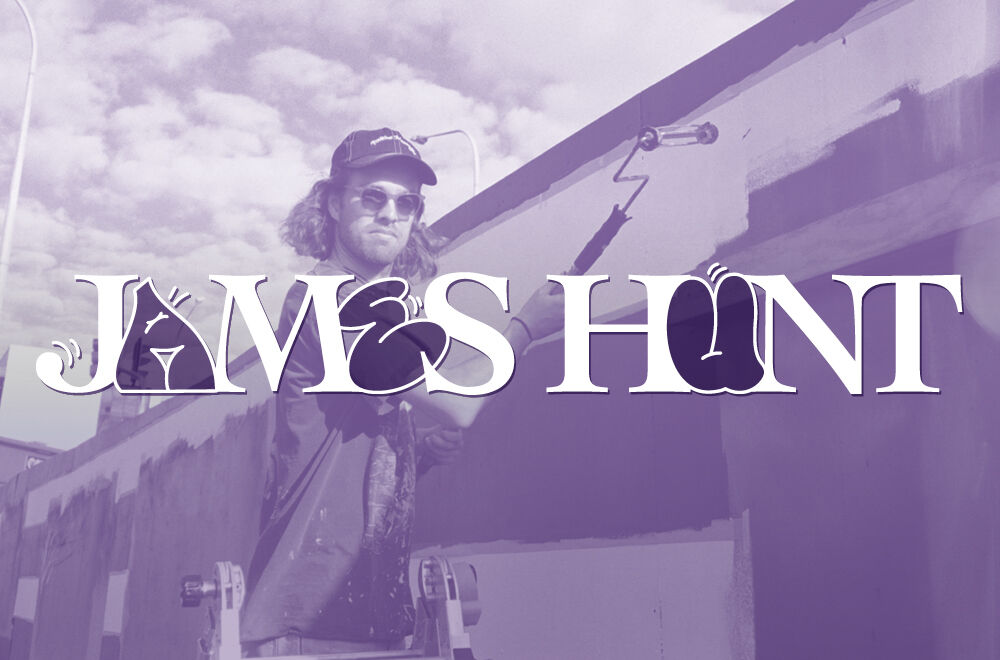 Posted by Creative, Sweet
James Hunt's work is a glimpse of life through the lens of the artist, a colourful reflection of how he perceives and navigates his world. His bold works find a way of speaking to our inner child, our ambitious present and our hopeful future. James has recently taken up a job at BurgerFuel headquarters working with Shake Out and Winner Winner, we sit down with James to hear more about his journey and his life as an artist.
Haser: Thank you for joining us, for those that are first-time observers of your work, can you tell us who you are and where you're from?
James Hunt: I'm James Hunt, an artist and designer from Tāmaki Makaurau.
We all have a come up story, when would you say you started drawing, and what got you into it?
I think I started as a toddler but it got really serious during primary school. I started a drawing club with a few friends where we tried to draw Dragon Ball Z characters, next thing I knew I was studying for a Visual Communication Design degree in Te Whanganui-a-Tara.
I love any art journey that involves drawing Dragon Ball Z characters, consider me a member from the West Auckland chapter. Based on your current work, I can see that you have progressed and moved on from the Japanese power house, I really enjoy these playful works of yours, can you tell us what is the inspiration behind them?
Cheers! I think a lot of my inspiration comes from feelings. If I've got the saddies I'll just start priming some canvases or paint over something that wasn't quite working. This is a good distraction from worrying about the world burning up and all of that scary stuff. Next, I'll have a look at my phone notes or sketchbook to see if there are any ideas for paintings that might make people feel a bit less shit. Those ideas often come to me when I'm in a good place like going for a run or walking Taxi, my dog.
Shoutouts Taxi. That's awesome, I think being able to emote the right feeling with art is a powerful gift that involves a lot of honesty. I also enjoy an artist that knows how to delegate their time when they can see they are not in the right headspace.
At first glance, we can see that you are quite a versatile artist when it comes to mediums, are you hoping to explore more or would you like to settle on something?
I was pretty happy with my last exhibition where I used acrylics and airbrush. I think I've got heaps more to progress within those parameters but I'm definitely not going to settle on them. I think I'll always love painting walls and I'd like to do some large scale projects in the future. I guess that's the beauty of making art, you never really settle which keeps you busy.
Very true, commitment and persistence will get you there. With society realising the powerful impact of public art, I can see there will be plenty of walls looking for a makeover.
We aren't cruising around in flying cars yet, but we are definitely navigating the times of our futuristic ambitions. We have vast amounts of digital resources at our fingertips that have made art making a luxury, but some of us have chosen to chuck the car in reverse and remain in the analogue age, do you have a preference for digital or analogue?
I like both and they each have their merits. Sometimes I start on the iPad and turn it into a painting, sometimes I start with a paint pen or airbrush and then digitise it. I also make a crust pushing pixels around on my computer as a graphic designer but if you had to make me choose it's analogue all day. It's like listening to music with headphones vs watching it live. Live is way better.
Respect. You have recently added BFG to your resume, working with Shakeout and Winner Winner, does working in a corporate space work for your creative journey, or do you prefer to keep the work and art separate?
Sometimes my "work" and art gets to collide and it's definitely an interesting challenge to stay true to my practice or style while working within the parameters of another brand's brief. It's nice when the company I respect approaches me because they want my work aligned with theirs but on the other hand it's also pretty comforting to know that if I've got bills to pay I can jump on my computer and smash out some work for a client that's got nothing to do with my art. I know there are plenty of artist/designers out there with the same business model as me.
No doubt, the ability to be versatile across the creative spectrum seems to be common practice these days, although that doesn't excuse the talent and commitment it takes to endure it, so great work on being able to make this work.
Leading on, is a full-time art hustle something you are working towards or do you enjoy the balance of work and passion?
I'm looking forward to working three days a week at BFG and then spending the rest of my time at my studio and I think it's probably going to be more productive for my creative pursuits. It can be a bit of a juggle trying to service multiple clients and the painting tends to get kicked down the road a bit in terms of priorities. Also, I think that working solo can be a bit isolating at times and I've heard such good things about the culture at BFG HQ so I'm excited to work in a team environment.
I was fortunate to be in your seat once and I really enjoyed it, I found BFG allowed my creative mind to idle when my studio practice wasn't ticking over, I hope it works out for you and I hope it helps launch you in to the next phase of your creative journey.
It really sounds like you have immersed yourself in the creative process, to do this it usually means time works a little different, what's an average day for you?
5:30 Alarm. Hit the snooze once or twice. Get up. Potter around for a bit. Wake Maddie up with a coffee. Walk Taxi. Go to work where I'll either be art department on an ad set, graphic designing or painting. Go home. Make some kai. Hang out with Maddie. Watch or read something. Sleep. The routine varies with a few activities like running slotted in there.
The creative journey can be exhausting sometimes, I personally find inspiration in others journey, seeing them navigate the unknown, are there any artists that are currently on your inspiration feed?
I've been trying to consume more podcasts for inspiration rather than scrolling because it's more productive for me to take practical advice from other artists verbally than to look at their works. I just got into one called Bench Talk by Tom Gerrard that I'm finding super helpful.
Shout outs to Bench Talk, it's an amazing series with an incredible list of artists, that podcast certainly helped me when I was in creative need.
If art had an appetite, travelling would be it's sweet tooth, something we constantly crave. Have you done any travelling on the back of your art, or is there anywhere in the world you'd like to take your art?
I've done a bit of travelling but it's generally just been for leisure. That being said, If I'm in a different country I always try to find a few cans of spray paint for a naughty little graff piece.
Respect.
Tūranganui-a-Kiwa Gisborne is the furthest I've been on a painting job, a few mates and I covered some containers in graffiti art for a Jagermeister activation. I love to travel so it would be rad to take my art further abroad or assist for some Kiwi legends.
When art isn't at the forefront, what else do you do to occupy your time? And does that inspire the process or do you prefer to keep your art and life separate?
I'm blessed with lots of amazing friends and whānau and I love spending a lot of my time with them. Quite a lot of my art has a written word aspect which comes from the day-to-day social interactions I have with people. In terms of hobbies though, I love getting in the water and going for a dive whenever I get the chance. Running is good for my art too.
I think your work is a great representation of what you have mentioned, sometimes we get so consumed with our days that we find happiness in art or literature that seem to point out the obvious.
We've all had the conversation around what we would do If money wasn't an issue, what would your dream gig be?
Retirement!
Word
To be honest, If I could retire now I don't think too much would change. I'd probably just keep making art but for more charitable causes than keeping up with my stinky bills.
Very admirable, I hope you manifest that situation one day. Speaking of one day, where would you like to see yourself in the near and distant future?
In the near future, I'm keen to put another show on and build a little painting studio. In the distant future it would be cool to have a few more wrinkles, a smile on my face and people I love around me.
Super positive attitude mate, what advice would you give your younger artist self?
I try to give myself this advice to older me too! Make more art and don't second guess yourself. If you're having doubts just use it as motivation to keep making more stuff.
Hell yeah.
BurgerFuel has a large fleet of classic vehicles, what's your dream machine?
You better believe I'd be pulling up in an Electric Vehicle. If anyone reading this works in marketing for a car company please get in touch, I'm so keen to plug an EV for a project excuse the pun.
We are the future.
You mentioned you listen to a lot of podcasts, but what songs/artists are hogging your playlist at the moment?
This song called Bandits by Molly Payton and Oscar Lang has been playing consistently since they released it last month. Also My greatest achievement by Salt Water Criminals is amazing and I can't wait for their album to come out!
I'll be sure to check them out, and last but not least, favourite burger from the Fuel?
It's pretty hard to pick a favourite as there's a time and a place for every burger on that menu but if we were to pull up some stats of my most consumed burger I'd say the classic American Muscle would be sitting at number one.
Claaaaassssiccc!