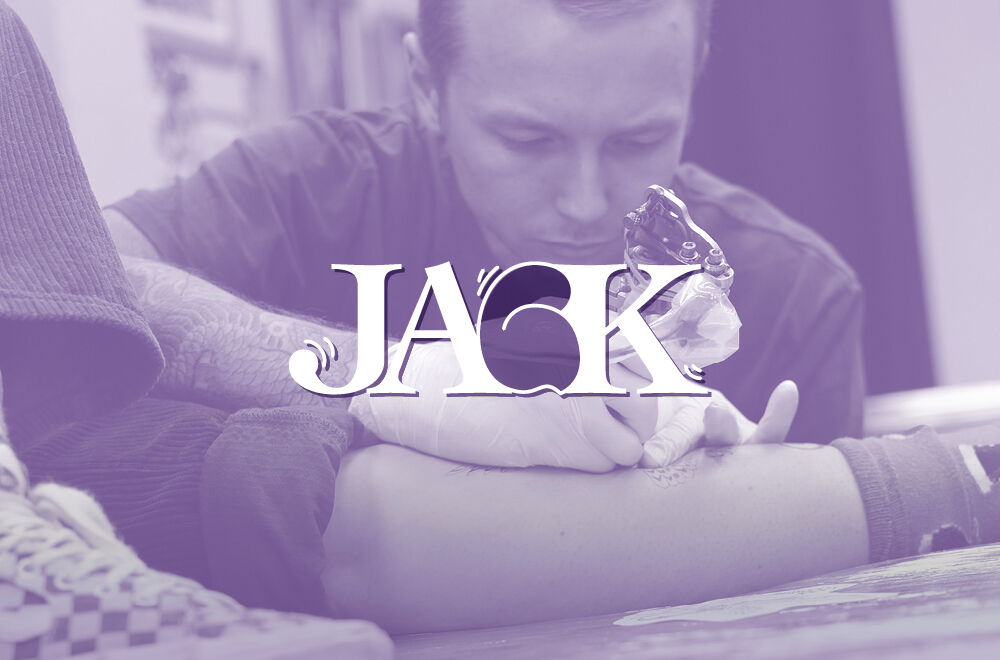 Posted by Creative, Sweet
Tattooing has been a part of BurgerFuel's DNA since day one, our tattooed staff found refuge in our stores, a place to feel comfortable in their own stained skin. Hit fast forward, we catch up with an ex BurgerFuel staff member that has gone from behind the hotline to behind the needle. In the process of filling his own body canvas, he found himself getting deeper and deeper into the world of tattooing, so much he decided to pursue it himself. We catch up with our long time Friend of the Fuel to hear about his journey and new life as a Tattoo artist.
Haser: Thank you for joining us, for those that are first time observers of your work, can you tell us who you are and where you're from?
Jack: I'm Jack, I'm a tattooer from Auckland. Currently working at Ōtautahi Tattoo in central Auckland.
Awesome, that's a very credible studio, shout outs to Ōtautahi Tattoo. When did you start tattooing, and what got you into it?
I started my tattooing apprenticeship in 2020. I was interested in tattoos but didn't really know if I wanted them when I turned 18. I had friends that got tattooed as soon as they could and two in particular that got quite a few tattoos from some really good tattooers. But it wasn't until 2016 or so that I started really looking at tattoos and thinking about getting them. I got my first tattoo in mid 2017, and it snowballed out of control from there. Pretty quickly tattoos took over most of my attention. While getting my back tattooed in 2019 I realised that at some point I would run out of space to be tattooed and that I wanted to continue being around tattoos and tattoo studios, and so I would have to become a tattooer in order for that to happen.
I remember this journey, most people settle for a little shoulder piece or maybe a belly rocker, but you seemed to dive straight into the deep end and almost ended up with a whole body suit.
Do you occupy an artistic practice outside of tattooing or is skin your only canvas?
I draw, and do colour studies in colour pencil on paper for tattooing, and I also do some ink/watercolour painting. Those paintings are done with tattooing in mind, in a similar style but the process and some of the considerations are a bit different. There are things in painting that I couldn't tattoo, and little elements in tattooing that I can't replicate in paint. So all the artistic things I do are part of or directly adjacent to tattooing.
Awesome, I can already see the two complementing each other.
I certainly remember a time where even my tattoos raised a few eyebrows, but over the years there seems to be a growing acceptance towards the tattoo culture, do you think tattoos are more acceptable in society today?
I don't really remember thinking much about tattooed people before I was 16 or 17, no-one else in my family has tattoos except for one cousin of mine. It just wasn't on my radar for a long time. But then I got into metal and hardcore in high school and most of the bands, and concertgoers were tattooed to some degree so I became accustomed to seeing them that way. Right now it seems like there are an ever growing number of tattooers, studios, and people with tattoos. So I think they're pretty well accepted at this point, certainly in New Zealand at least.
We hope so, tattoos are a great way to express our individuality, they're also a great conversation starter.
The life of a tattooer can open many doors. do you have any goals as a tattoo artist?
I want to do good, large scale tattoos that hold up for a lifetime, and to maintain that as a career for as long as I am physically able to work.
Great work, we look forward to seeing these unfold. We recommend adding a chiropractor to your outgoings, that back is gonna need some love over time.
Outside of bespoke tattoos, there are certainly a few styles that stick out above the rest, would you say there a style that you specialise in?
I gravitate pretty heavily towards Japanese tattooing and American traditional. I think when done well both have the right mix of line work. Black, colour, and skin to hold up as good tattoos for a lifetime.
These are my personal favourites outside of Māori Ta moko, they always seem to come alive when applied to the skin.
You mentioned you are currently working out of Ōtautahi studios, how did you end up there?
Yes, as of this year I have started working at Ōtautahi Tattoo, on K road in central Auckland, I apprenticed at Keepsake Tattoo up until the end of last year when the shop had to relocate as the lease came to an end. At Keepsake I learned to tattoo from Bryn Goodall and Damian Morris, so a massive shout out to them both for teaching me everything I know, and letting me get a foot in the door.
Shoutouts to Bryn and Damian, both incredible tattooers that have served the tattoo community for a long time.
Is tattooing a full time gig, or do you find yourself having to balance work and tattooing?
I've gone from part time tattooing during my apprenticeship to full time tattooing from March this year, so I'm still very green to tattooing full time. Previously I was at the studio 4 days a week, drawing, painting, and trying to tattoo when I could, and then working the other days of the week at BurgerFuel Parnell to pay the bills.
Congratulations, being totally reliant on your craft is certainly worth celebrating.
What's an average day for you?
It's not that interesting… I work at the studio 10am-5 or 6pm, tattooing, and drawing when I'm not tattooing. I'll draw or paint a bit in my free time after work and on my days off I try and deal with all the other admin things.
Dedicated to the cause, we love it.
I know tattooing can be a nomadic lifestyle with it's ability to allow for travel and work, is this something that's on the radar, if so, where is the first place you wanna get your passport stamped?
I would like to travel and do some tattooing overseas eventually, but that's probably not on the cards for the next few years. For now I'm just focused on building up a clientele in Auckland (so if you're reading this you should come and get something cool tattooed from me)
COME SEE JACK FOR A TATTOO!!
I imagine you have a bunch of artists that inspire you, are there any you'd like to share with us?
There are hundreds of tattooers that inspire me so I won't even start there. Although, some other non-tattooers I love seeing work from are:
Aric Improta he's a ridiculously creative drummer/percussionist
Kavan Chay A kiwi Astro-photographer (he's also a sick guitar player too)
Tatsumi_oni Japanese guy that makes clay and iron ornaments and tiles that cap roofs in Japan
Hiromitsu.430 carver of Japanese wooden theatre masks
Margaret Bray NZ potter
Gizan_katoh the most unreal wood sculptor
Thank you, I look forward to checking them out, Japanese craftsmanship is really something special, their attention to detail and patience is a skill that is hard to teach.
When art isn't at the forefront, what else do you do to occupy your time? And does that inspire the process or do you prefer to keep your art and life separate?
I try to get outside and move a bit, walking, maybe a bit of running, and I love cycling. Auckland is a pretty grim place to try and cycle in many ways though. The roads and drivers make it an unenjoyable pursuit that's not always safe.
I think a city built on Volcanoes was always going to be a problem.
I like to listen to music, I'll put albums on and zone out for an hour. I try and go to shows when bands manage to make it to our corner of the world too, occasionally you get your mind blown by live bands in a way that recorded music just can't do.
I don't really do anything directly outside of tattooing for inspiration, but getting outside, moving, and music all help to quiet my head and let me actually focus on tattooing and drawing.
I love that, sometimes we look for those things to inspire us, rather than allow us time to unwind, both equally have their advantages but it's very important to disconnect when we can.
Where would you like to see yourself in the near and distant future, artistically and personally?
Tattooing is a life-long pursuit, so in the near and distant future I want to still be applying myself to doing tattoos that are better than the last one I did. One day it would be hugely rewarding to be able to compile a books worth of well executed, large scale tattoos.
Great work, my advice would be to document as much as possible, and preferably document with a device that will last the test of time. My biggest regret as a young artist was converting to a 2mp digital camera.
We've all talked about what we would do if money wasn't an issue, what would you do, or what would your dream gig be?
I'd like to just be tattooing Monday-Friday in a busy studio with a group of other motivated tattooers. Ideally I'd like to be surrounded by some artists with decades in the game and to soak up as much wisdom from them as possible. There are amazing studios like that scattered all over the world, and I'm not sure exactly where I'd like to end up.
Great aspirations, we hope you find that studio, and we're sure you'll be that person one day that is offloading advice and stories to a younger generation.
Speaking of a younger generation, what advice would you give your younger artist self?

My younger self always liked art in lots of different forms. But I never thought that I could be a professional artist of any kind, I didn't see myself as being able to do something artistic and get paid to do it. So I would probably tell my younger self to pursue any artistic endeavours I liked and to not worry about whether they were normal career paths for the average school kid.
Preach.
BurgerFuel has a large fleet of classic vehicles, what's your dream machine?
If money (and rust) were no issue, then I'd love an e30 Corolla or basically any nuggety 70s/80s Toyota/Mazda/Datsun
I'm getting Westy vibes.
You've talked about your connection to Hardcore, I'm going to assume this is what's hogging your playlist at the moment?
For me it's mostly variations on metal and Hardcore, generally I spin albums from start to finish, at the moment it's been (in no particular order):
Great American Ghost- Hatred Stems from the seed
Comeback kid- Heavy steps
Malevolence- Malicious Intent
Meshuggah- None
Between the Buried and Me- Colours II
Heavy, and last but not least, favourite burger from the Fuel?
My favourite BurgerFuel burgers have been retired: The Peanut Piston, and a once only special, the Teenage Mushroom Pizza Burger. On the menu it's got to be the American muscle with salad added.
The Teenage Mushroom Pizza Burger was my introduction to Mushrooms, it was definitely a one hit wonder that we should bring back.
Thanks a lot for your time Jacks, if you would like to see more of Jacks work you can follow him on the grams.