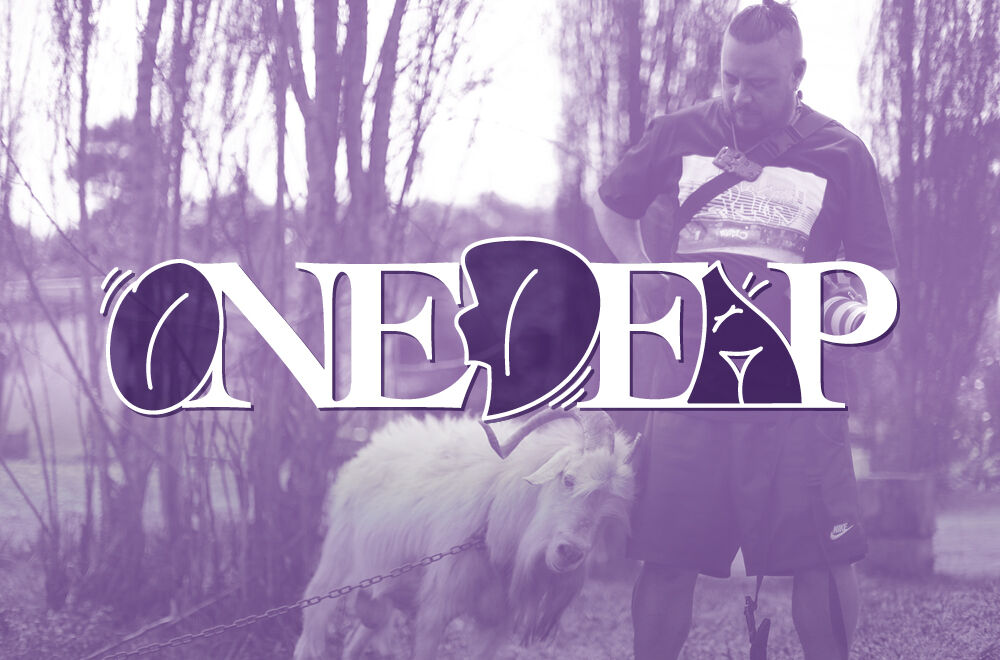 Posted by Creative, Sweet
Great photos have a way of reminding us of the past, allowing us the ability to move through time, they encourage us to get behind the lens and feel the light, smell the air and remember a moment where we never existed. Our next guest has spent his life documenting a world he has immersed himself in, from the darkroom to the limelight, his images tell the stories of the journey before the legacy. We catch up with Tāmaki Makaurau based artist OneDeap to hear more about his journey and his life as an artist behind the lens.
Haser: Thank you for joining us, for those that are first time observers of your work, can you tell us who you are and where you're from?
OneDeap:
Kia ora koutou katoa.
Ko Jamie McCready tōku ingoa.
You might know me as OneDeap on the socials.
Born and raised out Waitākere.
Ngā mihi nui, I myself met you a long time ago, 2003 I think, I could tell you were already well and truely into your practice, when did it kick off for you?
The year was 1998. Phat1 was pretty active at the time and his graffiti had captured my attention. The reason I started taking photos was to pretty much keep Phats work alive. Because of toys and the buffer, many walls were lost forever. Not many writers were documenting their work at that time and I felt a need to do this.
This effort was incredibly evident at the Dowse Museum - An Aotearoa Graffiti Story exhibition in 2021. Your images have immortalised what might have been a distant memory for a select few and they will continue to keep those stories and events alive for years to come.
1998 seems like a lifetime ago, and considering the digital camera was an absolute privilege till the 2000's, I'm going to assume your journey started with film?
I started shooting on my mums 35mm deposable film camera. Let's just say she wasn't very impressed when she got the roll of film developed and most of the shots were of graffiti.
It wasn't long before I got my hands on my own 35mm film camera. My first camera was a Chinon CE-2. I shot on this camera from 1998 - 2003. This camera shot the majority of the first two issues of Disrupt Magazine. I started with film, moved to digital then went back to film years later and still shoot digital. Quite often digital will help me find the perfect shot on film. So both I guess.
Awesome, I have so much admiration for anyone shooting film, putting all your trust in your instinct and not really knowing till you develop your film to find out if you really got the shot. I need to revisit those Disrupt issues so I can appreciate the images again.
You mentioned your first camera, but I imagine you have upgraded since then? What hardware are you using now, and what's your dream set up?
I'm currently shooting on my Zenza Bronica ETRSi 120mm medium format film camera. I first got my hands on this camera back in 2004. It was the Back2Basics Magazine camera and shot issues 1-4 volume 2. I also use a Canon 5D mk4 for digital, a Panasonic HC-X1000 for moving image and a DJI Mavic Pro for aerial photography. I don't really keep up to date with what's on the market nowadays, everything is so expensive, so I usually just use whatever falls into my hands. I'm a firm believer of 'It's not what you use, but how you use it'.
A nice eclectic range of equipment, and very true, it's a good habit to not be so reliant on technology updates and focus that energy on your own abilities rather than the hardwares.
Photography is already an expensive art form when you are shooting film, not to mention maintenance and upgrades. I've damaged, lost and had my camera stolen on many occasions, what about you, have you damaged/lost any of your gear in the process of documenting?
I broke my first film camera in 2003. As I was winding my last shot on the roll it stopped just before the last click, silly me I thought I could force the winder to get the last shot, I ended up breaking the winder and writing off my camera. A costly mistake that would force me to move to digital.
Ouch.
In 2017 I crashed my first Mavic Pro drone in the Te Puru Creek. There's this technique with the drone where you can get it to hover a couple of inches just above the water. You pretty much have to land the drone on the water but pull it back up before it lands. The first take I flew the drone upstream about 250 meters and brought it back. I decided to get this shot again but this time didn't go as far. Happy with what I just shot I thought I'd bring the drone back, thinking it was further down the creek where I finished the first take. I couldn't see it cause it was too far away so I thought I'd just fly it up and that way I'll see where it is. I didn't realise it was closer to me and under a huge Pohutakawa tree. It came up, hit the tree, spun around a few times then crashed into the creek.
Shitty situation but definitely a great story, and I hope a lesson learned? I've crashed mine plenty of times when there's a signal failure, it's a torturous feeling watching $1000+ fly into a wall.
With technology moving forward, why do you think some photographers are heading in the other direction (Film)?
For me personally you can't beat film. If I shoot the same photo on film and on digital, 9/10 the film shot shits on the digital. You can try photoshop a digital photo to look like film but it won't come close. Film just hits different.
Very true, as a viewer, you can appreciate that the photographer waited till they felt the shot was right before they took it.
Leading on from that, I really enjoy your ability to truly capture a moment, what triggers you to take the right shot?
Thank you. I guess after shooting for some time it triggers me when I fail a shot. Film is too expensive to waste, every shot counts. Everything needs to be on point, the light, the focus, the crop. It breaks my heart when the shot could've been perfect but I messed it up somewhere. You soon learn to be on point. Also with photography, I believe a lot has to do with timing. So many times I miss a moment cause I'm too in awe of what's happening. You can lose a moment if you're not ready, stay ready.
Great work, this has always been my admiration for film photographers, taking everything into consideration in what might be a split second, and still managing to get your subject in focus.
Beyond shooting film and capturing graffiti, I know you have a great practice outside of that. I know you have captured some incredible icons in your time, is there a favourite out of the lot?
I guess my photo of Israel Adesanya. We met over 10 years ago walking our dogs up Maungawhau. We were both already following each other on IG which is pretty funny. When he made it to the UFC I told him I wanted to shoot his portrait before he becomes the champ. I just knew he'd get that title and wanted to capture him before he became the star he is today. For me, it's the early photos of Muhammad Ali before he was champ that make me go wow! In 2018 Izzy reached out and said 'today is the day, come to the gym and get the shot'. It's the last day of training camp before his fight with Brad Tavares, his 3rd fight in the UFC. I get to the gym and there's already 3 film crews waiting to film him. Izzy says to me 'do your thing' I'm like 'what about them?' He replies 'they can wait, do your thing' You don't have to tell me twice. I shot off a roll of film inside the gym but the shot I really wanted was outside, so outside we go. Izzy stands 6.4ft tall. I had to lay down a recycle bin and stand on it just to look him in his eye. It's about 11am and it's a bit chilly. If you look closely you can see goosebumps all over Izzy's body. I almost didn't ask him to go outside, I remember feeling like it was such a big ask with all the film crews waiting, but I'm glad I did.
An amazing story matched with an incredible photo of one the greatest fighters we'll ever see.
Fast forward to the present time, are you working on anything at the moment?
There's a group exhibition that I'm part of coming up on Thursday 13th July upstairs at The Crawl Space at Splendid Photo on Karangahape Rd. It's part of the Matariki Festival and the theme is 'Matariki Portraits - Your Version of a Star'.
Awesome work, we hope it goes well for you and we look forward to seeing what you decide to exhibit.
You seem to be here, there and everywhere, what's an average day for you?
Up at 6am for a 45min workout inspired by F45 then jump into the west Auckland rat race for the city to do the school and work run. Then off to Grey Lynn Park for the dogs daily walk. Chyna catches up with her buddies while I catch flies for our frogs. There's a water oak tree near the pump track that's oozing sap, it attracts blow flies and wasps. On a sunny day I can catch about thirty flies an hour. I catch them with my hands and throw them into a dog poop bag. It's pretty gross when you think about it but our frogs are well fed. I'm the stay home dad so it's off home to do the house work followed by a quick break trynna get a dub on Fortnite. Before ya know it I'm back in that traffic once again picking everyone up then back home to cook dinner. If I have a photo shoot on that day we'll throw that into the mix as well.
Your story continues to amaze me, although I think a practice like yours needs a life like this, I can't imagine you being bound to a 9-5.
I've seen you work with many people and artists over the years, but what artists are inspirational to you?
Ans Westra / John McDermott / Robin Morrison / Enrique Metinides / Christopher Morris / Estevan Oriol / Boogie Photographer / George Goss / Carwash Photo Group / Tom Gould / Luca & Tak / Connor Pritchard / Jordan Cherrington / Danny Aumua / Noah Hapu
Ewok / Elliot Francis Stewart / Haser / Berst / ADT / Rams / Fuego / Askew / Charles & Janine Williams / Misery / Fluro / TMD / GBAK / AWR / MSK / FDKNS / Pork, Rae & Aches / Mr G / Owen Dippie / Kophie Loaf - MEEP / Collage Degree / Ant Sang
The whole From Outside roster / Spewer / Sven Illy / Dizzy Dash / Judah Kidd / Illseff / Madis / Pat Tafa / Raw Thawt / A.R.K / Jams & Gram - F.O.S all day
Avantdale Bowling Club / Team Dynamite / Bailey Wiley / Ladi & Parks / Diggy Dupé / Rizván / BeNZa / Poetik / Lukan Raisey / Tha Movement / Mareko / Deceptikonz / SWIDT / MELODOWNZ / MOKOMOKAI / SHEDLYTE / LNGSLV / LB / IAC / Church & AP / deadforest / Shiraz & LSJ / Risera / Haz Beats / Spell / S.F.T / B.Haru / Leonard Charles / Rep FM / Te Karanga Trust / Navigators
City Kickboxing / Hurtlocker / Mickey B Boxing / City Boys / Mana Rākau / Riff Raff Crew / Sky Pirates / MISFITD / Big Village Clothing / For the Ville / Authentic / The World is Omni / Little Natives / and my kids, Iliana, Koromiko, Ruby & Tiheii.
That's a huge list, I think it's reflective of your character and your work, I appreciate a documenter of culture that is immersive within that culture.
You've mentioned a bunch of members from the TMD crew which you are also a part of, when did you join this crew, and what are the benefits of being part of a collective?
I joined TMD in 2000. Man It's an honour and privilege to be rolling with such a force. Never a dull moment when surrounded by this much talent always pushing the boundaries. I'm constantly on my toes.
It's a mutual feeling, I believe when there is that much talent in one place, the energy levels are bound to overflow.
Is travelling on the radar, if so, where is the first place you wanna get your passport stamped?
To be honest travelling ain't really my thing at the moment. There's so much to see right here in our own back yard. Still so much of Aotearoa I haven't discovered yet. But when that day comes I wanna see the world.
I appreciate that, they say we're bound to travel the world before we climb our own hill. Aotearoa has a lot to see, experience and appreciate, the world will always be there and I'm sure it'll happen when it's supposed to.
When art and photography isn't at the forefront, what else do you do to occupy your time?
Time is something I wish I had more of to be honest. There isn't enough hours in a day.
I recently started my Te Ara Reo Māori journey. It's been a real eye opener for me. We just got back from Marae noho over the weekend. I came away from that more inspired to just keep going. I'm slowly starting to understand the language.
Preach. It's a very enlightening experience, I can't wait to go down this journey myself.
I watch UFC religiously on Sundays. I do my picks every fight card. I pick who and how I think they'll win. If you a fan hit me up I'll send you my picks.
Do these things inspire the process or do you prefer to keep your art and life separate?
There's not often a day that goes by where I don't have my camera on me. It's with me most of the time. I guess my art & life are not seperate. Apologies to my fam for putting up with this over the years and hats off to my love for being the breadwinner that allows me to be a full time artist.
We've all sat down contemplating would we'd do if things were different and if money wasn't an issue, what would your dream gig be?
I guess anything to do with the UFC would be a treat. Photographing the fighters, filming the fights, man make me the UFC matchmaker. I'll give Sean Shelby & Mick Maynard a run for their money any day.
I hope to see you ringside with your camera one day, I can certainly see you immersing yourself in that world and documenting a side of it that the average person doesn't see.
Outside of the Octagon, where would you like to see yourself in the near and distant future, artistically and personally?
Inspired by a book called 'Contact High' I wanna put my life's work on film into books focusing on every single contact sheet I've ever shot in chronological order accompanied by the worthy photos from that contact sheet. This is my one and only goal at the moment. My life's work is kind've grouped into 3 sections. There's the early graffiti stuff. 6 years of documenting the Auckland scene, all the Disrupt the System and Hip Hop Summit events at Aotea Square. 240 rolls of 35mm. Then there's the Back2Basics archives. 90 rolls of 120mm. And then my current body of work, sitting at 201 rolls of 120mm. I'm currently in the process of getting these books kick started. Watch this space.
MATE, please do what you need to do to make this happen, this is certainly a publication that needs to happen, and we will certainly be in line to cop it when it hits the shelves.
Eventually we wanna move away from Auckland city and live off the land down in Matapihi & Matakana Island.
I've lived a pretty similar lifestyle when I was a kid, growing up in Mangakahia. I'd love to do it again as an adult and teach my kids basic life and survival skills.
Speaking of kids, what advice would you give your younger artist self?
Travel and see the world before having kids. Try buy a house before having kids. Don't sweat the small stuff and overthink things. Don't procrastinate or waste other peoples time. Take Risks. Be loyal. Keep your sword sharp and be ready at all times. Tell your māma you love her more. Get those stories from your Grandparents.
Well said and very true, love the attitude.
BurgerFuel has a large fleet of classic vehicles, what's your dream machine?
1965 Chevrolet Impala. Sacked on 22" chrome rims.
The ol fantastic voyage, although no impala can cruise the streets without the sounds blasting, what songs/artists are hogging your playlist at the moment?
MOKOMOKAI's new album WHAKAREHU is fire. 'ROOFRACKS' feat Brandn Shiraz, 'KUPE' feat MELODOWNZ and 'FLATLINE' are all bangers
Pat Tafa's 'Double Hamo-Side' feat Madis & 'What Do I Do' feat Dizzy Dash & Sven Illy go hard
Madis 'Never Coming Out' & 'By Any Means' feat Spewer
EARTHGANG 'Bobby Boucher'
SWIDT 'NOT 4 $ALE'
Church 'CANADA'
deadforest & AP 'FOREST vs PURPOSE'
Killer Mike just dropped a very powerful 14 track album called 'MICHAEL' Got this on replay
The Mokomokai album got some heavy rotation in my studio when it first dropped, I'll try and give the Killer Mike album some air time as well.
Last but not least, favourite burger from the Fuel?
20 years ago it was the Studnut Stilton with bacon but that was taken off the menu. Now I get the Burnout and switch the chicken for beef and it's pretty much the Studnut Stilton. Remember when y'all did wraps? I use to get the C N Cheese in a spinach wrap.
Classssssic option, and yes we remember the wraps, we just pretend it never happened.
Thanks a lot for your time Jamie, if you would like to see more of Jamie's work you can follow him on the grams.