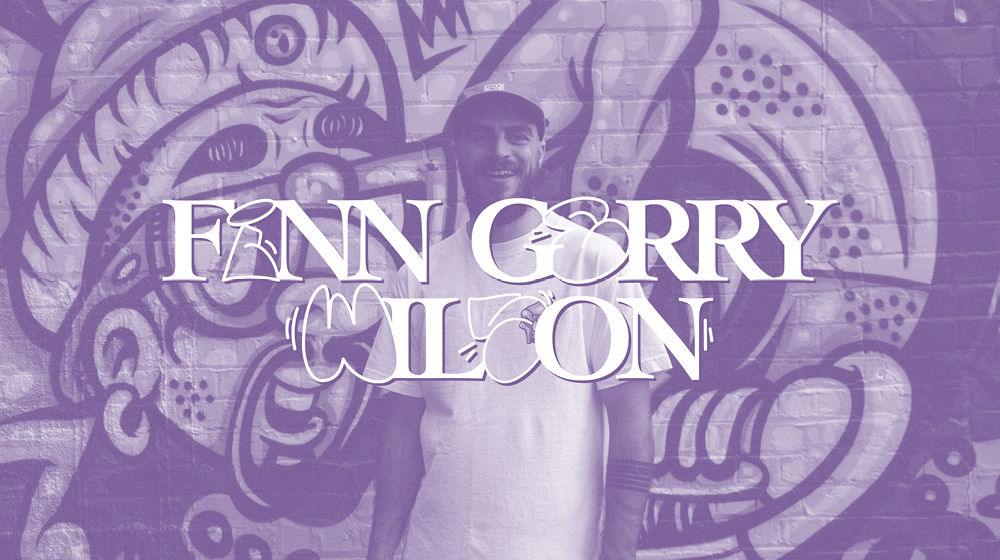 Posted by Creative, Sweet
We catch up with an artist that holds his umbrella over multiple disciplines and successfully brings them all together in an unorthodox, but harmonious way. Finn Gerry Wilson is a walking pictionary, his illustrations and paintings carry intense depth that range from music and cartoons to pop culture and sport. It takes a lot of memory, effort and patience to orchestrate that much content, we're fortunate to have Finn here with us as we find out more about his process, journey and where his art career is going.​
HASER: Thank you for joining us, for those that are first time observers of your work, can you tell us who you are and where you're from?
Finn Gerry Wilson: My name is Finn (Finn Gerry Wilson) and I'm an artist born and bred in Auckland.
When did you start drawing, and what got you into it?
I started drawing the moment my parents put a crayon in my hand as a toddler. My amazing parents are what got me into it. They've always been my strongest support beam and I can't thank them enough for teaching me the basics and allowing me to express myself through my art.
Props to the folks, I was also fortunate to have parents that pushed me into a creative direction as well.

I'm a big fan of your illustrative style, it's quite the juxtapose, there's a lot going on but nothing really seems out of place. What's the inspiration behind it?
The inspiration behind my work is forever changing. I'm someone who can't stick to one particular style for too long...I can get bored easily like most people. I'm constantly searching for different inspiration to keep my style evolving. When I first started illustrating my focus was mainly on cartoons, skateboarding, famous athletes eg. Dragon ball Z, Looney Toons, Disney and Pixar, Ronaldinho & Messi etc. As I've grown I've been exposed to the internet/social media, I've had access to so many different cultures and movements that inspire me on a daily basis. - The easiest answer would be "everything".
That certainly explains a lot, you've defiantly done a great job of packaging all that up into single pieces of artwork.
I know you are quite a versatile artist when it comes to mediums, are you hoping to explore more or would you like to settle on something?
There is too much to explore that it gets overwhelming at times, but also super exciting.
Dabbling with different mediums always excites me because I think it's the best way a creative can really test themselves and expand. Jumping out of your comfort zone to learn new techniques and methods is super crucial for growth. I have a large list of mediums in my mind to tick off, sculpture and animation are two mediums I'd love to get a better handle on.
We're looking forward to seeing your works come to life, they'd make great animations. Speaking of animations, it's predominantly a digital process in these modern times and I know you have the ability to work in both digital and analogue, is there a preference?
Oooosh that's a toughy. I've really enjoyed the test of digital as I've always been pretty sh*t with technology. My iPad is a close mate, although I'm going to have to stick to my roots and say analogue. Nothing beats a brush or spray can in my eyes.
Nice, the iPad certainly aids the process of commission work but I've also gone full circle on the iPad and come back to pens and brushes.
You always seem to be in the middle of some commission work, have you managed to find some time to dedicate to your own studio practice?
I'm trying my best to put time aside to focus on new work. I've piled the pressure on myself and committed to putting a solo exhibition together later this year. I can't go into too much detail, but the venue and dates are locked in. Lots of new work in the pipeline!
We can't wait to see what it is, and we'd love to come along and support when it's ready. One thing I find really interesting is how an artist constructs their day, some stick to the 9-5 formula and some decide they work best after midnight. What's an average day for you?
An average day for me usually involves rain, traffic and not being able to paint/create something
In all seriousness, my days are often mixed up. No day is really ever the same, which is nice. It always starts with the usual culprits of breakfast, coffee, a bit of "Auckland's Finest" (traffic) on the way to the studio. I'll jump onto urgent emails/admin but try to leave them until the end of the day as I like to start off by diving straight into work. It can range from iPad, canvas or wall depending on the job for the day. My hours range as I can often get carried away and work longer days trying to come up with new ideas or just getting stuck in the zone with my epic studio crew working around me. I try to work 9-5 but that never happens. Try to top it off with some sort of exercise if I can too.
Nice, so you also go for the "come at me day" approach, I've tried to introduce order into my workflow, but chaos seems to harvest the best results.
What artists are currently on your inspiration feed?
Damn, it's hard to list them all because they're constantly changing on a daily basis. I follow a massive range of extremely talented people who are regularly posting masterpieces. My Instagram feed is flooded with creatives ranging from painters, writers, musicians, athletes, dancers…
To make it easy, the last five I've saved for inspiration are:
Shane_odv | Pichiavo | Slowthai | Morf_ | Gorillaz
Shane is defiantly an artist I rate, his output and quality is incredible, I was fortunate to see some of his work when I was in France. Speaking of France, I know a lot of creatives become inspired after travelling, before COVID 19 was a thing, were you able to get many stamps in your passport or are you hoping to head abroad at some point?
I was lucky to sneak a bunch of stamps in before we hit lock down, which I'm super fortunate to have done. I touched down for the European summer in 2018 for a few months, which etched in many epic memories I'll cherish forever. It opened my eyes to some of the worlds most beautiful places and cultures, this experience truly impacted my approach to life and art in the best way possible. I can't wait to get back overseas at some point (hopefully very soon).
Sounds great, I love an NZ summer, but a European summer is really something else, long days and beers in the park.
When art isn't at the forefront, what else do you do to occupy your time? And does that inspire the process or do you prefer to keep your art and life separate?
I feel that everything I do away from my art inspires my work process, even if I it's invisible to me at the time. I couldn't live without spending time with my family and friends. I'm a very social person, love to have a good time with mates and getting to know new people. Outside of work I try to put most of my time into things like travel, good food and going to events eg. gigs, festivals, sports games, beaches. Depends on my mood, but I like keeping my options open as I know there's a lot out there that I haven't experienced that could be future inspiration.
Sounds like a healthy balance. Where would you like to see yourself in the near and distant future?
I'm pretty desperate to get overseas at some point in the near future. It's looking like a jump across the ditch to see family and friends could be on the cards. Australia seems to have a lot to throw around which could be a nice change of scenery even just for a few weeks or a cheeky weekend trek.
The current state of the world we're living in has made it difficult to plan. I have many goals and plans to achieve in both the near and distant future but am mainly focused on the present for now. Or at least until the world decides what it's new approach travel involves.
Popping over to Australia is still a very "Nek Minit" situation, as long as your world doesn't crumble if you get stuck over there, it's definitely worth jumping the ditch.
You've been an artist for some time now and I know there are constant ups and downs that come with the trade, so what advice would you give your younger artist self?
Sorry it's long and may sound kinda corny but this is what keeps me going and I tell myself everyday.
"Close your eyes and breathe because as long as you can breathe you still have the chance to grow and achieve.
Admirable
Take your time and listen to what people have to say even if you don't want to hear it or agree. Stay calm and take the positive out of the conversation, leave the negative behind because negativity is everyone's downfall. Fu*k the negativity that life will throw at you! Take it as it comes as it's always just around the corner, but don't hold onto it as that's what will weigh you down. It's something that will unfortunately never expire in our world, learn to control it and try not to pass it on.
Play the patience game, don't rush, take your time and take a step back if things are too overwhelming. Take those smaller steps if you need to.
If there's something you truly want to achieve then manifest it! Put those thoughts into the universe and "your world", keep them on your mind everyday. Even if it's just for a few seconds or hours each day, it's really important to back yourself through manifestation… it will happen!
Lastly just have fun and take risks. Fun being what's healthy for YOU in a situation and what makes YOU happy. Risks being that uneasy feeling that will only vanish once you've broken through the barrier, tried and achieved…or failed. If you fail, at least you'll know you gave it a nudge and tried. Surround yourself with good energy and pass that energy on to others."
There's nothing corny about that, those are really wise words so thank you for sharing them with us and I'll be sure to adopt some of that for myself as will others reading this.
BurgerFuel has always been known for their large fleet of classic vehicles, what's your dream machine?
If I could have any dream car it would probably be a 1974 Lamborghini Countach or the new Bugatti Chiron Super Sport.
I had to google both of those, but they are certainly some beautiful machines.
Last but not least, favourite burger from the Fuel?
Can't say no to a Burnout!!!
Not many can.
Thanks a lot for your time Finn, if you would like to see more of Finn's work you can follow him on the grams.