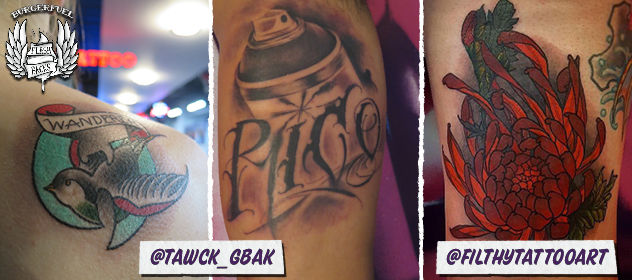 Flash Tattoo day with Creative Sweet.
BurgerFuel held a sporadic competition that was run through the BurgerFuel Facebook page. On Wednesday the 29th of Mach, two lucky (and bad-ass) customers, along with one crew member from store came into BurgerFuel Head Office to then select from a flash sheet done up by two crazy talented tattoo artists.The winners enjoyed BurgerFuel for lunch and getting to know the two artists before they sat down in the chair.
Two pieces were done by Tawck from Memory Lane Tattoo and the other was done by Currar from Filthy Tattoo Art. One of the customer winner's was flown up from Timaru, the other drove up from Hamilton. The crew member who was the lucky winner is a part of BurgerFuel Whangaparaoa and was the first in the hot seat. The Flash tattoo day was supported and run through Creative, Sweet.