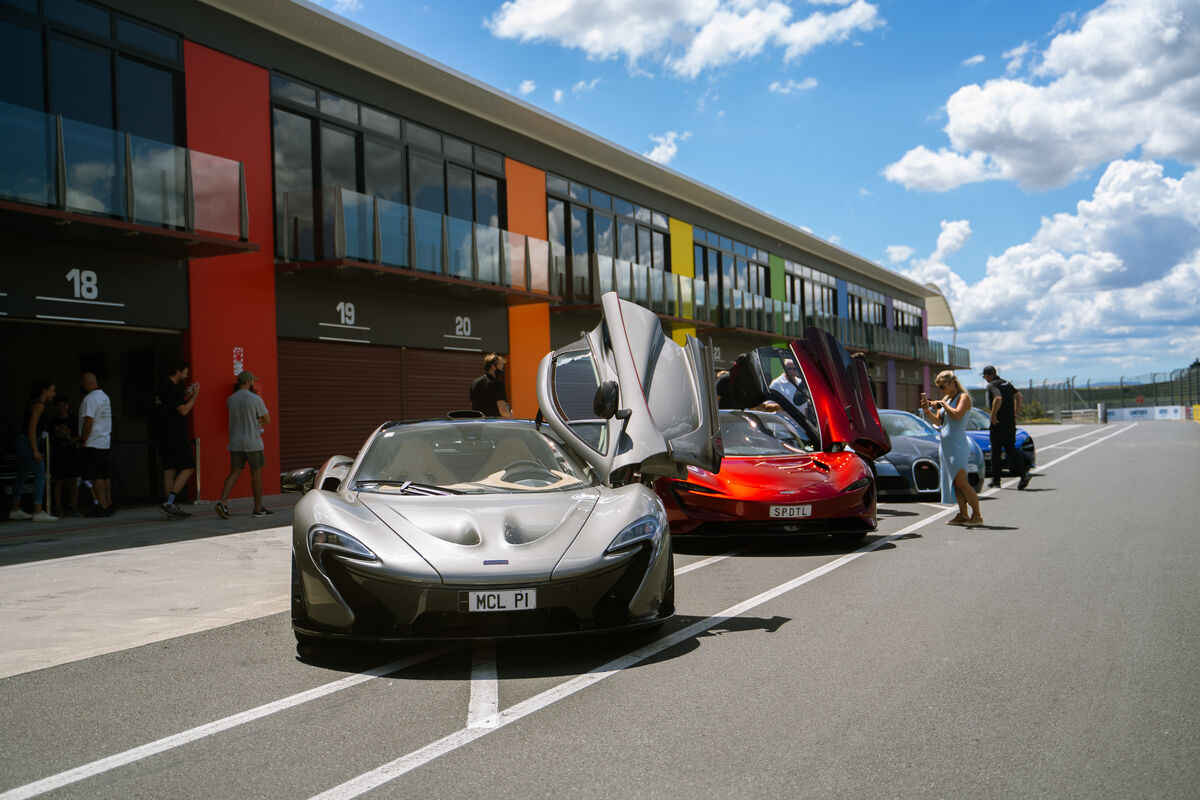 First up on the track was the 2020 McLaren Speedtail.
A hand-assembled, limited production hybrid sports car and McLaren's first ever Hyper-GT. This beauty is one of only 106 ever made and is the only one in New Zealand. The Speedtail is considered the fastest McLaren made to date and the most aerodynamically efficient.
As a unique passenger experience, winners sat to either the left or right of the central driver, Downforce instructor and driver, Richard Moore. Moore is a professional racing car driver in New Zealand, and one of New Zealand's most experienced and highly qualified precision driving instructors. With 15 years of experience in the Motorsport industry, he has competed in a number of various championships around the country, and abroad. And you could tell, getting the Speedtail to 260km/h at times!
Then, it was time for the 2015 McLaren P1
With technology closer to that of an aircraft, than a conventional car, this P1 is one of 375 in the world and again, the only of its kind in NZ. McLaren set out to create the 'ultimate driver's car' with this model and parts of the car were inspired by a sailfish that American automobile designer, Frank Stephenson, saw when on holiday in Miami.
Andrew Waite took the wheel in this bad boy. Racing since 8 years old, he's one of the very few people to win races in all three New Zealand Single Seater Championships, including the Toyota Racing Series. Making the switch to Saloon cars late in 2011, Andrew has won the NZ V8 Ute Championship and competed in the V8 SuperTourers.
Last around the track, the 2009 Bugatti Veyron
A mid-engine sports car named after racing driver, Pierre Veyron, this model is the only in NZ and is one of 200 in the world – this model is serial #171. It features an 8.0-litre, quad-turbo-charged W16 cylinder engine, generating over 1000 PS. The engine is fully capable of operating under a continuous full load, which is a feat that engines designed for use in motor racing cannot achieve.
Stu Owers was in charge and with considerable success at the world famous 24 Hours of Nürburgring race with four class podiums, he knows what he is doing. Originally competing in the USA, Stu has won numerous championships in New Zealand and around the world and in 2014 Stu and his team won their class in the Bathurst 12 hour.
Thanks to our mates
A huge thanks goes to the team at Downforce, who helped organise and supported us in bringing this day to life. Cheers to Tim and the team! If you ever need to go full throttle, in more ways than one, the Downforce crew have a range of experiences for you to take on and we couldnt recommend them more. 
Cheers also goes to Luke at McLaren who also rocked up in a 720S. Giving friends of the fuel, aka HQ, who came along to have a look, a chance to head around the track at real pace.
Having access to this exclusive collection was a once in a lifetime opportunity and we're so glad we got to share it with our customers in such an exclusive way.